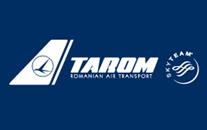 Tarom
TAROM Romanian Air Transport operates 14 weekly flights on the route Bucharest – Sofia (Terminal 2) – Bucharest, by ATR 42 aircraft.
Out of Sofia, TAROM Romanian Air Transport provides convenient connecting flights via Bucharest to all major final destinations in Europe and the Near East. For the Summer 2014 period TAROM offers Return trip tickets for a total price of 260 – 300 EUR ( all taxes included ) between Sofia and Amsterdam, Barcelona, Brussels, Budapest, Dublin, Frankfurt, Geneva, Larnaca, Moscow, Munich, Paris, Tel Aviv, Amman and Beirut.
The airline operates domestic flights between Bucharest and 9 cities in Romania.

- Destinations in Romania: Baia-Mare, Cluj-Napoca, Iasi, Oradea, Satu Mare, Sibiu, Suceava, Targu-Mures, Timisoara.

Bucharest Otopeni Airport is the closest International Airport for Bulgarian nationals who live in the North-East part of the country. By using TAROM Romanian Air Transport's services, you have the opportunity to reach all major European and Near East destinations at very competitive fares.

TAROM Romanian Air transport has nominated "Concorde International" as a General Sales Agent for Bulgaria in 1997. Our company has direct access to the airline's booking system. This guarantees that we can provide our clients with the most competitively priced air fares. Airline tickets for individual travel may be bought directly from our office or from more than 120 IATA Approved travel agencies. Unlike individual travels, group travels (10 or more people) are determined exclusively by "Concorde International".

For more details please contact our office at
Please create your request for reservation here.