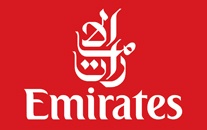 Emirates
Emirates fleet consists of the latest models of Airbus and Boeing aircraft, including the latest
Airbus 380.

The company's rapid development plays a significant role in establishing Dubai as an attractive global destination for business and leisure, congress tourism sport and shopping.

The "Emirates Dubai Stopovers" program offers Emirates clients exclusive choices:
- Attractive rates for hotel accommodation in more than 80 hotels (from 2 to 5 stars) and apartment complexes that provide 24-hours check-in for their customers;
- Variety of tours and safari;

- Assistance in obtaining entry visa;

- The following additional services are also included in the program: Meet and Assist service at Dubai International Airport by a uniformed Arabian Adventure representative, transfers between Dubai International Airport and hotel, Tours and Safari brochure, 24 hours emergency number, a complimentary 36 Hours Visa to any transit passenger that has booked a one night Dubai Stopover package.
When planning your trip, we highly recommend that you familiarize yourself with the
forthcoming cultural, business and entertainment events that are set to take place in Dubai.

The geographic location of Dubai on the world's map facilitates transfer flights between all continents. That is why each week Emirates operates more than 2 500 flights between Dubai and 122 destinations in 74 countries on all 6 continents.
Over the course of its short 30-year history, Emirates has become a world leading brand in civil aviation, combining competitive fares with utmost care of its passengers. The airline has been nominated for more than 500 prestigious international awards for high quality on-board service in
Economy
,
Business
,
First class
, as well as at airport terminals.
•
The airline is the world leader with regard to maintaining a modern aircraft fleet. The latest product to roll out of the factories, the
Airbus 380
, is enjoying particularly high levels of interest due to the exceptional comfort that it offers all passengers. The upper deck of the aircraft hosts the First and Business class passengers and is equipped with a spacious
onboard lounge
which is highly reminiscent of an elegant business lounge. First class passengers can exclusively enjoy luxurious individual cabins, as well as an onboard
spa centre
.
•
Dubai International Airport has a special
Terminal 3
that has been constructed especially for Emirates passengers and provides unique conditions both for relaxation, as well as for shopping.

The "ICE" (Information, Communications, Entertainment) System that all flights are provided with, ranks among the best in the world. At the Paris Airshow in June 2013, for a record ninth year in a row Emirates were awarded "World's Best In-flight Entertainment" award.

Each passenger is provided with their individual screen and has access to programs that fit their own personal preferences:

- Information – The latest news, business or sport headlines; Special external cameras and the program "Air Show" also help get passengers involved with the flight conditions and examine the airplane's location in real time;

- Communications – Each passenger's seat is equipped with a satellite phone and a screen via which you can send text messages or e-mails;

- Entertainment – 1 400 programs that provide access to the latest and most popular movies, as well as real-time TV streaming, music programs and video games.

A significant part of the International awards that the airline has received is related to the meals offered on board. Passengers are served free-of-charge meals once or twice per flight, depending on the duration of their flight. The menu is highly varied and also accompanied by a selection of wines and soft drinks.

The Skywards Bonus program offers a selection of additional privileges for the frequent flyers.
For some of
Emirates' destinations
, First Class and Business Class passengers enjoy free-of-charge
transportation to their hotel by limousine.

As a gift to our clients who fly in First of Business class, "Concorde International" offers a free-of-charge Medical insurance (with an insurance coverage of up to 20 000 EUR).
Exclusively for Emirates passengers who need an Entry visa for Dubai, "Concorde International" provides assistance for issuing Entry visas for the United Arab Emirates. You can download the Application forms for U.A.E. visa here:

The "Arabian Air Pass" program is extremely popular among Bulgarian businessmen and citizens of Arabic and Iranian origin. As a supplement to the flight ticket to Dubai, customers have the option of buying discounted fares for 2 to 6 flights between Dubai and some of the following regional destinations: Amman, Bahrain, Beirut, Cairo, Dammam, Doha, Kuwait, Muscat, Riyadh, Sana'a, Tehran. The conditions of "Arabian Air Pass" are presented here.

"Concorde International" can book your seats on board the aircraft at the time when you purchase your ticket, i.e. well in advance and before your check-in at the airport. We can also take care of any specific food preferences you might have, as Emirates offers a variety of exquisite menus.

Emirates had appointed "Concorde International" Ltd. Sofia as a General Sales Agent for Bulgaria since 2006. Our company has a direct access to the airline's booking system. This guarantees that we can provide our clients with the most competitively priced air fares. Individual trip tickets can be issued directly from our office or by one of 90 IATA agencies. Unlike individual travels, group travels (for 10 or more people) are determined exclusively by "Concorde International".

For more details please contact our office at

02 9331066 or 02 9331050
Please create your request for reservation here.